Spring Lamb Rump with Braised Turnips, Asparagus, Peas and Jersey Royals, served with a Lamb Jus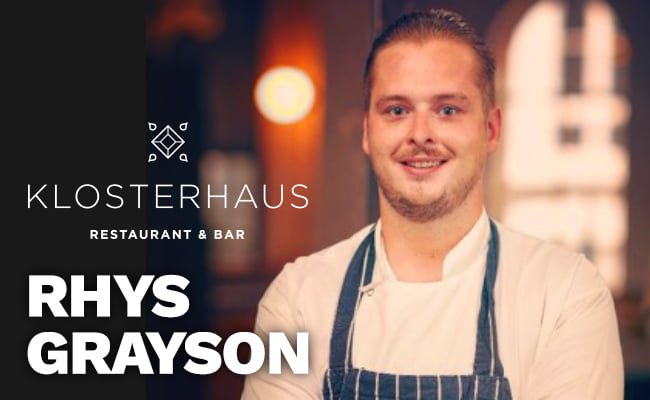 The man of the HAUS! Head Chef Rhys Grayson, has a wealth of foodie knowledge. Before taking on this role he was previously Head Chef at the fine dining steak restaurant @pasture_bristol. He is known for his innovative experiments with food and breaking boundaries when it comes to developing menus and cooking processes.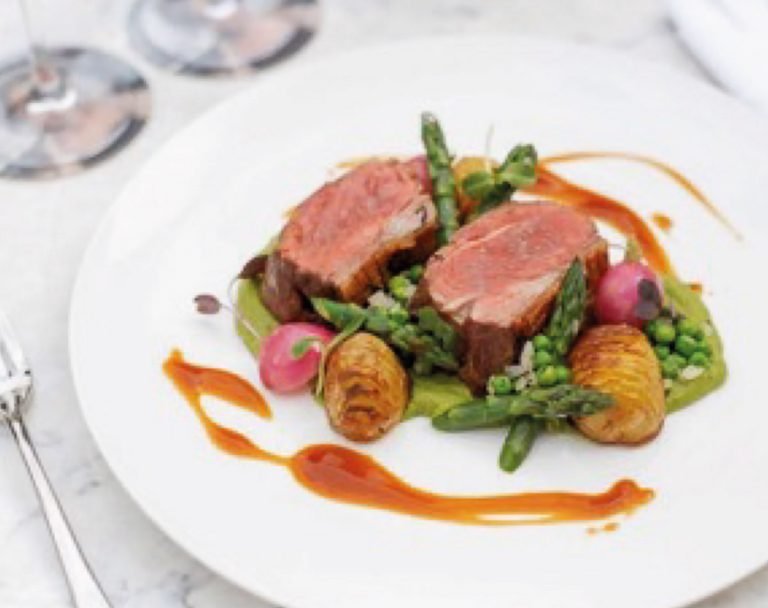 Spring Lamb Rump with Braised Turnips, Asparagus, Peas and Jersey Royals, served with a Lamb Jus
4 x 200g lamb rumps
1kg lamb bones fresh or frozen (if frozen defrost in fridge overnight)
2 x large onions
  2 x large shallots
1kg frozen peas
1 bunch coloured baby turnips or radishes if turnips are not available
8 x asparagus spears (1 bunch)
250g x Jersey Royal potatoes
2 carrots
1 bunch celery
1 lemon
½ bunch of thyme, rosemary and mint
1 bulb garlic
Pea shoot/ micro herbs to garnish 
500ml red wine
125ml vegetable stock
100ml olive oil
50g tomato puree
1 x 250g block salted butter
Salt (preferably Maldon sea salt) and pepper
1. Make the lamb jus. This will be the first job you will need to do and will take around 6 hours to be ready. You can always make the day before and store in your fridge. Any leftover jus can be frozen down ready for use next time. 
– Place all of the lamb the bones onto a baking tray and roast in the oven at 200°C for 20-25 minutes until golden brown. While they are roasting peel and chop the carrots, celery and an onion into inch sized pieces. 
– Place a large pan on a medium heat with a little vegetable oil and add the cut vegetables, along with rosemary, thyme and garlic. Roast these off until you get a nice golden colour. Add 50g tomato puree and stir for a few minutes before adding in 500ml red wine. Reduce the wine by half.
– When ready, add the bones to the large pan along with 4 litres of water. Slowly simmer for at least 6 hours making sure that the bones are always covered with water (you can always top up if necessary).
– After 6 hours, pass the stock through a fine sieve, throwing away the bones and vegetables and keeping the liquid.
– Put this back on the heat in a saucepan and reduce by at least 80% until you have the desired consistency. You can always test a little bit out on a plate to see how thick it is.

2. Prepare the pea and mint puree 
– Dice one large onion and add to a frying pan over medium heat with salt until translucent. Add 50g butter, 500ml of water and 300g of frozen peas, cook for around 3-4 minutes and remove from the heat.
– Add half a bunch of chopped mint and the juice of half a lemon juice.
– Add the ingredients to a blender and blitz until smooth. Pass through a fine sieve if you have one. 
– Chill over ice or in the fridge and leave cool until needed.

3. Cook the Jersey Royals
– Score the tops of the Jersey Royal potatoes and add to a baking tray with thyme, rosemary, garlic, salt and pepper.
– Roast at 180°c for 12-15 minutes, depending on the size, until slightly soft to touch. You can always use a toothpick to check if the potatoes are done, it should go through the potato easily.

4. Confit the shallots 
– Dice the 2 shallots and add into a small saucepan with 100ml olive oil and a small amount of salt. Slowly cook on a low heat for around 20 minutes until the shallots are translucent and take off the heat.

5. Prepare the asparagus, peas and turnips
– Cook the asparagus and 250g of peas in boiling salted water for approximately 3 minutes. Drain and cool the asparagus and peas in ice cold water to stop them overcooking. Once cold cut the asparagus spears at an angle into 3 pieces.
– Place 50g of butter, 250ml water, 2 cloves of garlic and a sprig of rosemary/thyme into a pan and bring to a simmer. Wash the turnips and chop in half. Place the turnips in the simmering liquid and cook for around 8 minutes so they are still slightly al dente ( slight crunch/ texture). Once you have the desired texture, drain and cool down the turnips, ready to be mixed with the other vegetables.

6. Prepare and cook the lamb
– Remove any skin from the fat layer of the lamb. Score the lamb fat using a sharp knife, taking care not to cut through the meat. 
– Season the lamb fat with salt and slowly render the fat down in a frying pan. (You do not need to add oil to the pan it is best to start from a cold pan and turn onto a medium heat.) Once the fat is golden-brown, sear all sides of the meat and remove from the heat.
– Add some garlic, thyme and rosemary and place into the oven either on a baking tray or the pan you just used if oven proof. For pink cook for 6-8 minutes and well done 14-18 minutes.
– Once out of the oven, rest your lamb at least 8 minutes before serving. Once you have all elements of your dish ready to go, you can then heat you lamb again for a few minutes in the oven. 

7. Get ready to plate and serve
– Reheat the pea puree over a low heat, adding a small amount of butter to finish. At the same time reheat the lamb jus.
– Combine the asparagus, turnip, peas and shallots together and reheat in a pan.
– Heat lamb and potatoes in the oven if required.
– To serve, place a spoonful of pea and mint puree onto each plate. Carve and add the lamb rump, along with the Jersey Royals, asparagus, peas, turnips and shallots. Finish with micro herbs and a good helping of lamb jus.