Chefs Table February 2021
Slow Cooked
Beef Bourguignon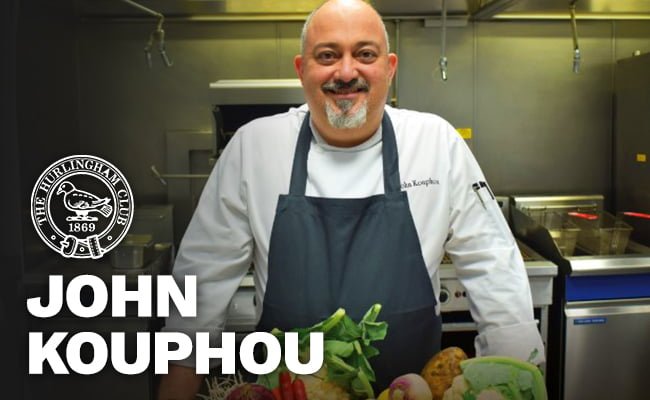 This month we introduce John Kouphou, Executive Head Chef of The Hurlingham Club, London. John's mission is to inspire a passion for food and a commitment to quality, the foundations to delivering exemplary cuisine at every opportunity. From 1998 to 2008, John worked in Cyprus across a series of senior management positions, most notably the opening of the Anassa and the Elysium Hotel, both being five star luxury resorts. He also then spent a few years at Atlantis the Palm in Dubai as part of the opening team, as Chef de Cuisine. From 2010 to 2015, John was Executive Chef at the Sir Nick Faldo Golf Resort, Elea Estate in Paphos, Cyprus and more recently, spent five years as Executive Chef at Wentworth Club. And if that wasn't enough to impress you, John has also personally cooked for many celebrities including Robert De Niro, Michael Jordan, Charlize Theron, Kylie Minogue, Roger Federer and Oprah Winfrey and many others!
Slow Cooked
Beef Bourguignon
1 kg Beef Chuck (cut into 2.5cm dice)
250g Smokey Bacon (cut into lardons)
1 large onion, thinly sliced
250g carrots, peeled and diced, 2cm
250g Chestnut mushrooms, quartered 
350g baby onions, peeled and left whole
2 cloves garlic, chopped
15g fresh thyme (take off from the stalk)
2 bay leaves
500ml burgundy wine
200ml beef/ chicken stock
25g Parsley, chopped
Maldon Salt & Crushed Black Pepper for seasoning
Oil for sautéing
Brown off the beef in a sauté pan, until golden brown.  Remove and place in sauce pan.  Cook the sliced onions until soft. Add to the beef.  Fry the bacon lightly and add all other ingredients to the beef. Cover with a lid.  Bring to the boil gently. Reduce heat to a slow simmer.  Cook for 2 1/2 hours, stirring every 30 minutes or so.  Add the parsley. Serve with mash potato & steamed rice.