Grilled French Trimmed Pork Chop, Butternut Squash, Pistou Puree, Hispi Cabbage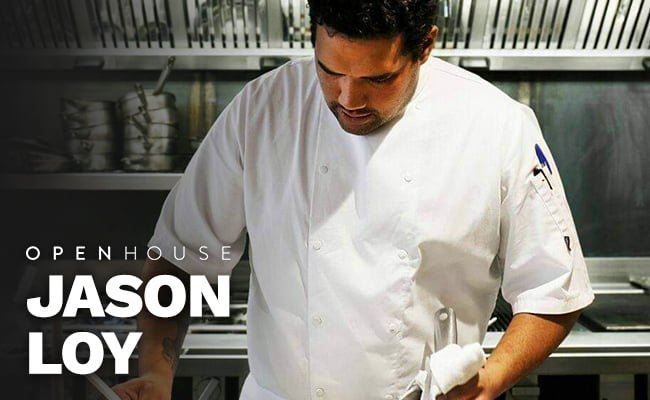 This month we introduce Jason Loy, the Executive Chef of Open House London. Jason, aka Tank, has been a professional chef for the past 20 years. Originally from NSW, Australia, from a little town called Inverell. He moved over to the UK in 2008 where he was only to be here for 2 years but 12 years on he's still here!  Jason started his career off as a Demi Chef De Partie at Soho house and after 10 years of hard work and numerous openings including the NED Hotel he finished my career as the Executive Chef of Soho Farmhouse to join
Open House London.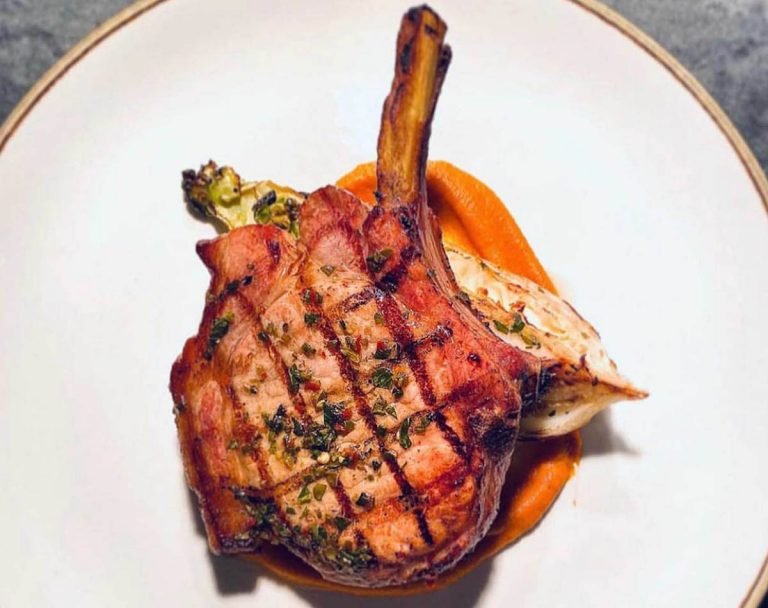 Grilled French Trimmed Pork Chop, Butternut Squash, Pistou Puree, Hispi Cabbage
PORK BRINE
4 x 300g Outdoor Reared Pork Chops, French Trimmed
4.2 litres water
114g Maldon salt
114g table salt
260g honey
30g bay leaves 
½ bunch of thyme
½ bunch of rosemary 
130g parsley
230g garlic cloves
42g black peppercorns 
42g fennel seeds
30g cumin seeds
30g coriander seeds
228g soft dark brown sugar
42g dried oregano
BUTTERNUT SQUASH PISTOU PUREE
800g peeled and seeded Butternut Squash
5g salt
90ml olive oil
1 large onion diced
1 red peppers seeded
2 cloves of garlic thinly sliced
3 bay leaf
7g chopped rosemary
5g chopped oregano 
nutmeg grated
2.5g ground cumin
180ml chopped tomato (blended)
30ml cabernet sauvignon vinegar
30ml water
30g pine nuts toasted
CHIMMICHURRI
40g Dried Oregano
50g of chives
100g chopped parsley
100g fresh oregano
20g Chilli Flakes
5g Garlic Powder 
175ml "WARM" Red Wine Vinegar
500ml Oil

PORK BRINE
Toast off all the seeds in a pan until they start to smoke, then add water and remaining ingredients. Bring up to the boil and simmer. Cool down and strain off the seeds. Once cold add your pork chops to the brine and leave for 16 hours.
BUTTERNUT SQUASH PISTOU PUREE
Cut the butternut squash into 2cm chunks, toss with the salt, and set aside, slowly cook the onions in the olive oil until soft and caramelised about 15 min add the chopped peppers & onions, cook for 10 min add the garlic, bay and rosemary, cook for few minutes then add the squash. Cook on a low heat for about 20 minutes until the squash is barely cooked add the oregano, nutmeg, and cumin, followed by the chopped tomato, cook for 10 min until the squash is cooked through. Add the vinegar, water and season then add toasted pine nuts. Blend until smooth. Add more water to adjust consistency of the puree if too thick. CHIMMICHURRI Warm vinegar and pour over all ingredients except oil and fresh herbs. Leave to cool. Mix in oil and fresh herbs. HISPI CABBAGE For every 1 ltr of water add 20gms of salt. Bring the water to the boil and add the salt and leave to cool. Cut the hispi cabbage into ¼'s and dunk into the water/salt solution and leave for around 5hrs. TO GRILL THE PORK CHOP & CABBAGE
Season the pork chop with a little cracked pepper. Add more salt if you wish but it is not needed due to the brining process. Pre-heat your oven to 180 degrees. In a med to hot pan add a little oil and gently add your pork chops sealing them on both sides for around 2-3 mins each side. Place into your pre-heated oven for around 9-12min then take out and and leave to rest in a warm place for 10min to relax the meat. Whilst the pork is resting you can now grill your cabbage off. Remove the cabbage from the water and salt solution and drain. Season with cracked pepper and a little salt. In a med to hot pan add a little oil and add your cabbage and seal both sides quickly to gain colour and place in the oven for around 10mins or until tender. Remove from the oven and drain on absorbent paper. To serve, place your puree down first, add your grilled cabbage and then your rested pork chop. Finish by added your Chimichurri sauce.